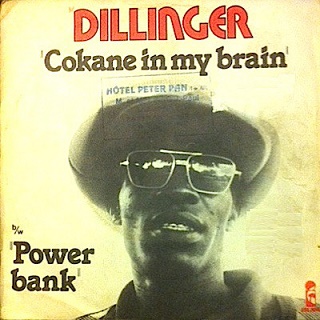 122
Dillinger
Cocaine in my brain (1976)
There are at least 2 bands with the name Dillinger

1. Dillinger (born Lester Bullocks on January 25, 1953) is a prominent reggae artist. Dillinger was part of the second wave of DJ Toasters who sprung up around Jamaica during the mid 1970s. Inspired by Big Youth, U Roy, and Dennis Alcapone, Dillinger was known for his quick wit, humorous lyrics and vulgar content ("crab in my pants").

As a youth growing up in Kingston, Jamaica, Dillinger would hang around Dennis Alcapone's El Paso Setup.